Have you been hit with a letter from your client asking to explain your IT?

Need to constantly assure them that your infrastructure is mature and secure?

Lost a prospective client because you couldn't prove your compliance?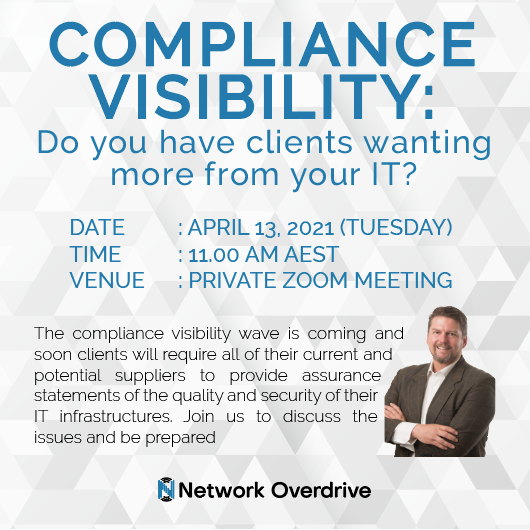 IT compliance visibility is becoming increasingly important for clients today. Your customers have spent a lot of time and resources securing their operations and now realise that their greatest cyber-risk are suppliers that have weaker IT systems.
Join us for our virtual roundtable at 11 am (AEST) on Tuesday the 13th of April to discuss the future of compliance visibility with other businesses and to learn the strategies and insights that they are currently applying to their companies.
It's free to join and will only be around 45 minutes long. Seats are limited so click
https://netod.link/cvisi
to register and save your spot today!
As a live event, it will not be recorded so only those who attend will benefit from this discussion. If you're unavailable to attend this event, you can still register your interest for upcoming roundtables on this topic.
See you there!
#ComplianceVisibility #Tech #Roundtable #Networking #NetworkOverdrive