Protecting your business, your brand and your customers against data loss and unauthorised exfiltration
The right technology security can help you win business and increase customer loyalty
AS it protects your business
Imagine having an expert team protecting you from cyber threats – a team who has your back. You would have:
63% of Businesses experienced a cyber breach in 2021!
The average reported loss by small businesses was $8,899
The average reported loss by midium businesses was $33,442
Many businesses only partially recover, permanently losing critical data or finances
Is your business any more secure?
Verified digital security is an essential business survival strategy today
Cybercrime is a global industry… 
In the last decade, cybercrime has become global, organised, and industrial in scale.
Criminals target organisations of every size with sophisticated campaigns that use powerful combinations of marketing psychology and leading-edge software.   
Smart devices have further increased cybercrime risk.  Bad actors can hide out in smart devices like phones and Android TVs – not just on computers.
COVID has multiplied flexible working arrangements – so more business have more people than ever before working on unprotected, overloaded networks 
The damage cybercriminals do is growing
Attackers are no longer out to blackmail you with denial-of-service. They're out to silently penetrate, infiltrate, monitor and extract all the data they can to blackmail you, to steal money from you, or to sell on the dark web.
Invaders spend lots of "dwell time" inside your systems.  They can lurk silently in your systems for weeks to steal every valuable thing they can find – from client financial data to incoming invoice payments they can divert. 
Firewalls and backups are insufficient
Locking your doors with firewalls and relying on "restore from backup" strategies puts your business survival on the line.
It's WHEN – not IF…
Every business of any size today depends on technology.  So –  more than ever before – every business is at risk FROM technology.
Is your business technology secure?   
Most "all-in-one" IT Service Agreements are flawed
Today, technology solutions and social change are multiplying, while cybercrime has become a sophisticated global industry. 
In this high-risk environment a traditional Managed Support Provider Agreement  from a technology generalist CANNOT cover everything needed to build robust digital security into your business.  
If your support package includes "looking after security" – but only covers regular backups, virus and firewall update – then your business survival is at risk.
No one can promise your 100% safety – but we can give you validated, multi-layer protection to:
minimise your risk, 

maximise your resilience

assure valuable stakeholders that you are doing the right thing. 
That's why Network Overdrive has developed a specific Managed Digital Security Agreement  – and built the specialist team and alliances to deliver it.
Great IT Support doesn't mean great IT Security
Many business people – and also many IT support people –  don't realise the level of risk that an all-in-one "Managed Support Package" exposes them to.
The reality is that today's cybersecurity needs  – even for small and mid-sized business – are way too complex for any one IT professional to manage.
The chances they can deliver good IT security at the same time as they're dealing with the day-to-day IT needs of your business are zero!
You might have a great internal resource (or a small IT provider) who is good at keeping you productive BUT IT DOES NOT mean that they are good at protecting your systems and your business.  
Good cyber security – the sort of security that will enable your business to survive – requires a full time focus.
It needs specialist knowledge, regular attention, detailed testing, continuous updates, and constant monitoring. 
It takes a whole different skill set – and personality type – to do effective cybersecurity.
And delivering it cost-effectively to mid-sized businesses takes a specialist business model.
Collaborative defence from specialists makes top quality cybersecurity affordable
Security companies and solutions developers are bringing the next generation of cybersecurity solutions to market – solutions that make great protection more affordable than ever before. 
Collaboration delivers greater (and more affordable) resilience 
Insurance companies and investigators expert in cybercrime recovery have identified that the best way to minimise defence and recovery costs is through collaboration. 
Collaboration makes the process of identifying and responding to new attacks much faster – and typically less costly.  This has been measured as reducing average response costs by a factor of three (and sometimes up to a factor of 10) 
Network Overdrive is working in alliance with US experts IronNet to enable the delivery of Collective Defence tools and strategies in Australia. 
A specialist team and a unique shared security model
Network Overdrive has developed a specialist team to deliver our  Managed Digital Security Agreement  in collaboration with our international Collective Defence allies.
Visible Cyber Security builds your brand AND your technology security
Cybersecurity needs to be visible and verified.
Do it right and build your brand.
Big business knows security is a top priority – and big business is increasingly demanding validated security from their suppliers.  
Mid-size businesses and small businesses can expect increasingly strident and detailed demands for formal verification of high levels of cyber security.  
Are your best customers asking to KNOW how you're protected – are they seeking evidence that you're protecting them? 
If they asked today, would you be comfortable sharing the details of your protection level?  And would you be confident that they're going to be happy with what you tell them?
If they haven't yet, you can get in early, increase your protection AND build your brand…
Thinking about cybersecurity is HARD…
The topic is scary, technical, detailed, and hard work.   It's all too easy to under-invest, delay, and procrastinate. 
Cybercrime flourishes on procrastination.  The best defence is knowledge, planning and cooperative defence strategies.
It's much safer and easier to delegate it to a specialist, dedicated team.
Visible security is a multi-win investment strategy 
When you have a robust, validated Managed Digital Security Agreement in place then cybersecurity stops being a horrible, anxiety-ridden unknown.
Instead, it becomes a trust-builder that enables valuable conversations with your key customers and suppliers. 
Done right, your cybersecurity:
Reduces your risks and 

Reduces your insurance costs AND  

Raises your profile with your customers in an increasingly global market.
Allocate 30% of your technology budget to "defensive plays" to win
A sports team might want everyone to play offensive and defence but they still hire a defensive coach who is responsible to make sure defence happens.
Similarly while a business might want all of their technology to play a role in security they need to commit about 30% of their technology budget (including time and effort) to 'defensive plays' and the security technology that helps them do that.
Industry best practice for cybersecurity is changing

In today's threat environment, Security Operations Centres and Managed Security Services are increasingly important.
They use effective defence strategies built around the Gartner-approved SOC Visibility Triad. 
The three dimensions of effective cybersecurity 
All three aspects of this triangle are equally important. The first two are better known, but ALL are vital: 
Security information and event management

(SIEM) and

User and Entity Behaviour Analytics

(UEBA) 




These solutions collect logging data from across your organisation's security infrastructure. Over time, analysis of this data for anomalies to help with faster threat detection.

Endpoint detection and response

(EDR) – is about carefully monitoring activity on your organisation's user devices (endpoints) 




The aim is to detect and prevent as much hacking as possible (think of it as advanced anti-virus protection).

Network detection and response

(NDR) – is about analysing your network traffic in close to real time. 




It monitors what's going on ACROSS your network for suspicious activity inside your systems.. 
Does your cybersecurity cover all three of these dimensions?   If you've never heard of Network Detection and Response then your risks could be greater than you know.
Are your systems really secure?
You need the following from us....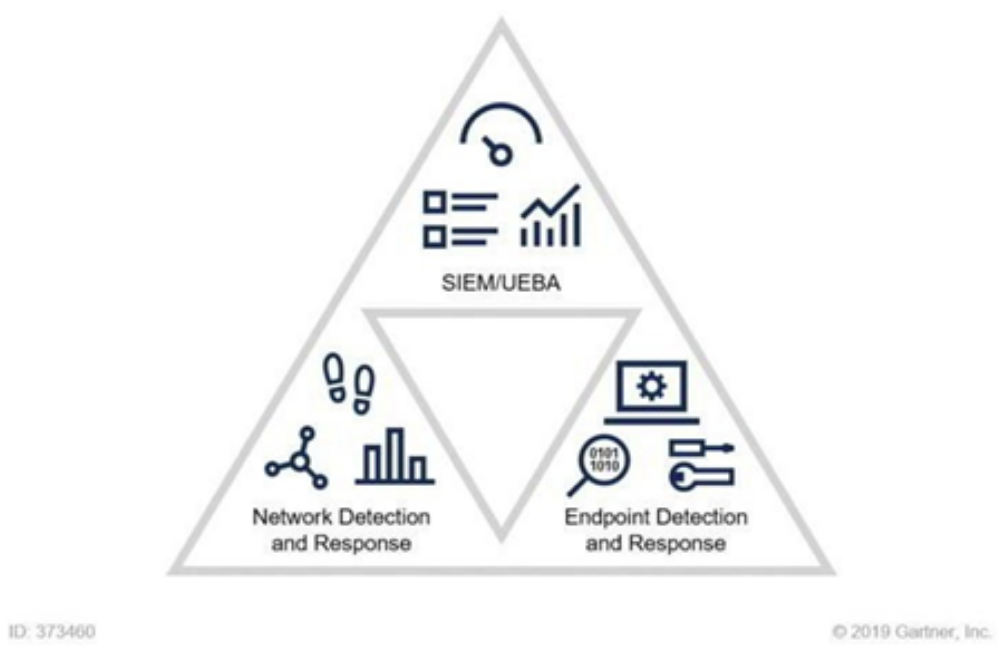 You need the following from us....
How do you assess your Cyber Risk?
Review your capability in these areas:
Data Governance, Risk Analysis and Reputational Management

Do you know what you hold, why you hold it and how you're protecting it?
Know where ALL your data is – especially what you're keeping about your customers. 
Regularly validate who can access it and confirm no-one else has access. 
This needs to be an ongoing process that ensures what you hold is protected over time. 
Analyse the business and reputation risks of the data you hold – so that you understand the consequences of an attack. 
Implement communications strategies and disaster planning so that you can explain to your customers how you are protecting them now and how you will keep them informed in the event of an attack.
Managed Detection and Response (XDR)
Do you have processes to filter noise and detect suspicious activity? 
Can you provide the right response from a multi-layer cyber security system. 
Does your approach include:  
Boundary Protection (Next Gen Firewall) to minimise the chance of illicit entry

Endpoint Detection and Response (EDR) that monitors ALL your equipment; and  

Network Detection and Response (NDR) using AI-based behavioural monitoring to ensure that bad actors are detected fast.
Unified Operations Centre (UOC)
We stress you need focus on Security however combining your  Security Information and Event Management (SIEM) systems with your backup and performance monitoring systems will increase your Situational Intelligence to better remediate any potential threat.  That is why we combine backup and disaster recovery operators and performance/availability technician with security specialists into a Unified Operations Centre
This quickly eliminates any 'alert' that is related to normal business activities so that the security specialist can focus on what might be truly of danger to the business.
Validated Data Protection and Disaster Recovery
Just running backup processes is not enough.  You know you should document disaster scenarios and then test, manage and validate that you CAN recover from each disaster – across all your platforms AND in a reasonable time.   
We work with you to identify and prioritise critical business functions and plan your recovery.  Then we test that process and review it regularly to ensure it works and stays up to date.  
Visible Compliance and Assurance
Develop and automate the ongoing formal verification of high levels of cyber security and risk management  that is increasingly required to keep your major customers  and win tenders.   
Meet the increasing market demand for ongoing compliance with ISO27001, GDPR or NIST. 
Develop the capability to quickly meet demands for such information; automate the process so you can easily share it AND demonstrate your compliance, building trust.
Embed your internal cyber security capability within a collaborative cyber defence framework that can identify actual real-time attacks.
Implement a collaborative approach to digital security and:
reduce your insurance costs

increase your protection

enable faster disaster recovery

access AI-powered analysis and protection

get actual attack intelligence in close-to-real-time

participate in collaborative problem-solving tools and expertise.
Every Business needs a qualified, committed Cyber Security team
Collaborative Defence makes it affordable
Affordable business protection 
Affordable, effective cybersecurity in a world of industrial-scale globalised cybercrime requires a collaborative approach and well-resourced security expertise. 
It requires a provider with a team of in-house experts equipped with top quality tools and the resources to make sure you're protected. 
It requires a provider who is up-to-date on current developments and who is connected to the best global solutions providers – providers applying the best in new technology to create robust, effective, affordable solutions. 
Visible assurance for your stakeholders 
As external stakeholders, regulators and big customers demand better and more visible security, it will increasingly require a provider who can guide you through demanding certification and assurance processes.   
If you want to win on a global stage, keep big clients and protect all of your stakeholders, then you need to invest in understanding the issues, the territories and the solution.
Security Technology is One of Three
Drivers for Business Success
Effective digital security is a key technology driver but not sufficient to drive business success. For your business to succeed and make best use of technology, you need resources and investments allocated to three areas:
By focusing on each success driver separately,  you can choose how to deliver each one. You can tune each driver to your business needs. You might outsource one area and do the others internally.
We have written a guide that covers the three areas in depth so that you can assess your situation and determine if technology is truly driving your business success (or is it just a bystander costing you money)
Collective Cyber Defence for the Care and Community Sector
For-purpose organisations and the community sector as a whole are now on the hacking front line. 
The growth of industrial-scale cybercrime and cyber terrorism – in conjunction with the growth of distributed working caused by COVID – means that the community sector is now facing a whole new level of cyber security risk.    
Network Overdrive has a long association with the Care and Community sector with our Community and Not For Profit Sustainable IT Services 
In response to this new reality, Network Overdrive offers an affordable, shared cybersecurity solution tailored for Australian Care and Community service organisations
The
Network Overdrive
Solution
Network Overdrive runs a team of specialists, including people with specific expertise in the security field.  We have researched the leading-edge security solutions on offer around the world. 
Protecting your business and your business systems in today's world of Cloud applications, smart devices and industrialised cybercrime has become too important to roll security into "support". 
For us this means:
How secure ARE you? REALLY?
This is something you need to KNOW and VERIFY – or you could well be risking your business on the assumption (ass-u-me) that you're covered. 
It's not something that you can safely postpone once you realise your risk.  Even though the area is high-tech and overwhelming, you can't afford to let "improving security" keep ending up on your "round to it" list. 
The harsh reality is that it's extremely difficult (and equally expensive) to do a cybersecurity upgrade in the middle of an emergency.  You get all the worst downsides of cost and disruption and reputation damage. 
The good news is that the top emerging solutions are collaborative – and collaborative security substantially reduces security costs, increases your protection, and can reduce disaster recovery costs (by a factor of 3 to a factor of 10).