Versatile and innovative managed IT support services for growing businesses
Do you need to reassess your current IT operations? The Network Overdrive team offer IT managed support to mid-sized and growing enterprises throughout Australia. From day-to-day running of operations through to long term strategies, our technical professionals ensure your IT is efficient, secure and up-to-date at all times. We can provide onsite IT support in Melbourne, Sydney, Brisbane, Adelaide and Perth and other locations in regional Victoria. In other locations, we can provide fast remote support.
When should you switch Managed IT Service Providers? When you hit the glass ceiling.
Partnering with Network Overdrive means:
Fast and friendly onsite. phone and remote managed IT support
Fixed priced agreements for IT managed services
Professional and ethical advice
Business orientated IT outcomes
Browse our IT Managed Services, Melbourne, Australia: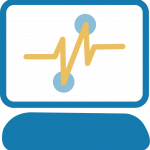 I.T. Support For Australian Healthcare Sector We provide Healthcare IT Support Services to improve patient care and doctor productivity Robust I.T. and computer support services
Visit page »
Business Benefits for Owners and Executives
Performance and Reliability Benefits for  Infrastructure
We deliver technology and services to facilitate greater business success. It's that simple.
Australian businesses rely on computers, networks, and other information technology solutions to compete in the local market, across Australia and even on the global stage.
With a trusted team of professionally trained I.T. analysts and system engineers ready to help take care of your complex technology environments, utilising Network Overdrive makes business a breeze.
We provide business IT Support solutions in Brisbane, Perth, Melbourne, Sydney and across Australia for businesses of all sizes; small, medium and large, to help you succeed.